lazyme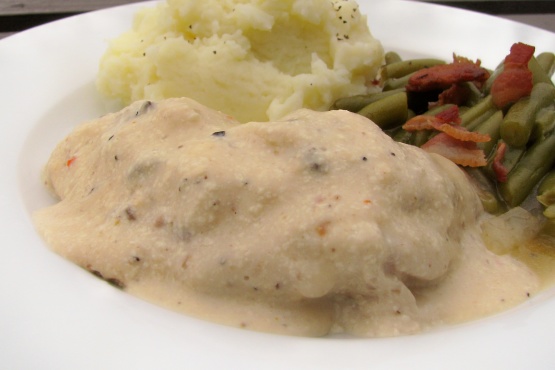 This is an all-around family favorite! My mom originally made it when I was younger, and now I use the recipe in my home and tell my friends about it! It's delicious, creamy, and filling! Using a crock pot makes it easy and convenient. Hope you enjoy!

I made a mistake and started the crockpot on low. After 3 hours the frozen chicken was barely thawed. It took 3 hours to cook after that, and it was delicious. I will make it again, but never from frozen chicken, which the USDA, doesn't reccomend. I really liked the flavor of it and next time will increase the amount of italian seasoning. Thanks for the recipie.
Place chicken in crock pot.
Cut cream cheese into cubes and distribute evenly over chicken.
In separate bowl, mix cream of mushroom soup, 1/2 can water, and Italian dressing mix until smooth.
Pour mixture over chicken and cream cheese in crock pot.
Set crock pot on high and let cook for 3 hours for fresh chicken or 4 hours for frozen chicken.
Serve with rice or egg noodles.
Enjoy!