Annacia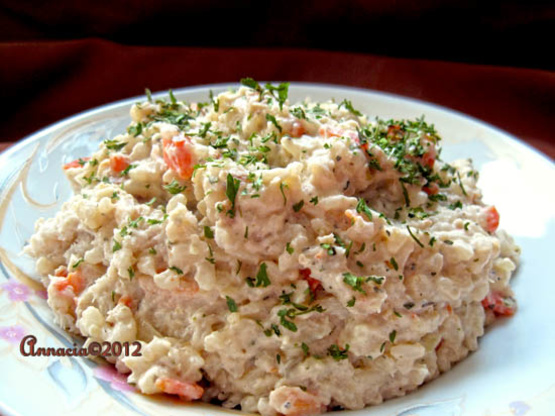 I really wanted a creamy crab risotto but couldn't find anything here, so i used http://www.food.com/recipe/crab-risotto-314749 as a base (for the liquid amounts) and then my nose.

This is unusual (for me) and very good. The one thing I would mention is that you might want to use some extra liquid if you prefer a looser risotto. When I took this off the heat, covered it to keep it warm, and got the dishes out on the table in less than 5 mins it had set up quite firmly. This doesn't bother me as I grew up thinking that it was supposed to be this way. One night I watched Hells Kitchen and learned that Chef Ramsey has a very different opinion,lol. If I wanted to make this for company I would use fresh lump crab meat but the 170g tin of crab in my pantry worked fine for me tonight and was, in fact, a treat for me as I very rarely have crab here in the land locked prairies.
1⁄2 cup arborio rice

1

cup water
1⁄2 cup Chardonnay wine (I used a brand called Gossips)

1

carrot, Chopped
1⁄2 onion, Chopped
shallot, 1 handful, Chopped

170

g crabmeat, Finely Chopped
1⁄2 cup thickened cream
1⁄2 teaspoon tuscan herbs
1⁄2 teaspoon mixed Italian herbs
1⁄2 teaspoon chili
1⁄2 cup cheese
In a Medium Saucepan combine rice, water and wine. Bring to boil and then turn down to simmer.
When approximately 2/3rds of the liquid is absorbed add the carrot, onion, shallots, crab, cream and herbs.
Continue to simmer.
Stir occasionally and check for absorbtion.
It's done when it's nice and thick and the carrots are still crunchy.
Add the chilli and cheese to the dish and bake at 220 degrees celcius for 15 minutes.