Creamy Corn and Potato Mash
Prep 15 mins
Cook 15 mins

Haven't made this, but it sounds good! The recipe calls for 6 fresh corn cobs, so I looked up the conversion charts, which suggests that 1 medium corn cob yields about 3/4 cup of corn. That would be 4.5 cups of frozen or canned corn, which sounds like rather a lot, to 200 gr of potatoes, which is about one large potato. Although the corn is pureed, which would make a difference. So I'm going to suggest 3 cups corn, but if you feel that this is too much, or too little, adjust accordingly. And let us know! :D Recipe comes from "Gourmet Stews And Mash".
Directions
If using frozen corn, prepare as per packet instructions.
Cook the potato in a pot of lightly salted boiling water until tender, drain and mash with the cream.
While the potato is cooking, melt the butter in a small pan over low heat. Add the onion and cook, stirring, for about five-ten minutes, until very soft but not browned.
Blend the cooked corn with the cooked onion in a food processor until smooth, adding salt and pepper to taste. Stir into the mashed potato and cream, checking the seasoning for taste.
Reviews
Most Helpful
Made this tonight as DH always loves to mix his mashed spuds with his veg. I did use the frozen corn. To be honest I didn't do the puree, just mixed it all together with the corn still in nibletts and it was a success. DH gave his "permission" to make this side any time. Made for For Your Consideration and my DH.

Great recipe. This is a wonderful way to use up some leftover corn. I chose to leave the corn whole vs. running it through the food processor and I did leave out the onion. DH really enjoyed this dish and went back to seconds. Made for the For Your Consideration tag game.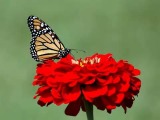 I really enjoyed this. I tried to puree the corn in a blender because I was too lazy to get my processor out for one serving. It didn't work very well because it all got gummed up in the bottom of the blender. So I gave up on trying to puree it. lol. But I really enjoyed the bites of corn throughout the potatoes so it worked out well. Thanks Karen E for a nice keeper. Made for For Your Consideration tag.