Creamy Coleslaw With Bell Peppers & Red Onion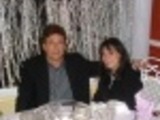 Although I usually think of coleslaw as a summertime side dish, it seems to go really well with my Super Bowl spread. I serve pulled pork with baked beans and some of this lovely, creamy coleslaw, then sit back and collect the compliments! Again, this makes a LOT, so adjust accordingly. This recipe is easily increased or decreased. Use a 16-ounce package of coleslaw mix for every six guests.
3 (16 ounce) packagescoleslaw mixed vegetables
2 large carrots, grated
2 bell peppers, cut into short, thin slivers (I use 1 each red and yellow)
1 medium red onion, halved and sliced thin
1 1⁄2 teaspoons celery seeds
1 3⁄4 cups mayonnaise
6 tablespoons rice wine vinegar
salt and black pepper, to taste
Directions
In a large bowl, toss together all vegetables and celery seed.
In a small bowl, combine the mayonnaise, vinegar, salt and pepper.
Toss together the vegetables and dressing until thoroughly combined. Taste and correct seasoning.
Refrigerate 30 minutes to let flavors blend. Serve.
Most Helpful
Loved this one! Easy to put together, loved the tang of the dressing and the hint of onion. My husband, who is a KFC Clone fan even enjoyed this-bonus points for that!!! I look forward to having this slaw on a smoky brisket sandwich...soon! Thanks for posting!

I loved this recipe! So many coleslaw recipes are too sweet or have too much dressing--this one was just right. I served this on my pulled pork sandwich (recipe#283481) and it was a terrific combo. My husband preferred his on the side but also thought it was delicious. I liked the addition of red bell pepper and the fact that buttermilk wasn't required for the dressing. This will be my go to recipe for coleslaw from now on. Thanks Jackie!
Delicious coleslaw! I halved the recipe and used yellow bell peppers. I added a few radishes just becauses I had some. Loved it! Thanks Jackie! Made for PRMR.