Creamy Coleslaw With Bell Peppers & Red Onion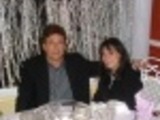 Although I usually think of coleslaw as a summertime side dish, it seems to go really well with my Super Bowl spread. I serve pulled pork with baked beans and some of this lovely, creamy coleslaw, then sit back and collect the compliments! Again, this makes a LOT, so adjust accordingly. This recipe is easily increased or decreased. Use a 16-ounce package of coleslaw mix for every six guests.
Ingredients
Nutrition
3

(16 ounce) packagescoleslaw mixed vegetables

2

large carrots, grated

2

bell peppers, cut into short, thin slivers (I use 1 each red and yellow)

1

medium red onion, halved and sliced thin
1 1⁄2 teaspoons celery seeds
1 3⁄4 cups mayonnaise

6

tablespoons rice wine vinegar
salt and black pepper, to taste
Directions
In a large bowl, toss together all vegetables and celery seed.
In a small bowl, combine the mayonnaise, vinegar, salt and pepper.
Toss together the vegetables and dressing until thoroughly combined. Taste and correct seasoning.
Refrigerate 30 minutes to let flavors blend. Serve.