Creamy Cinnamon Vanilla Coffee
Debbwl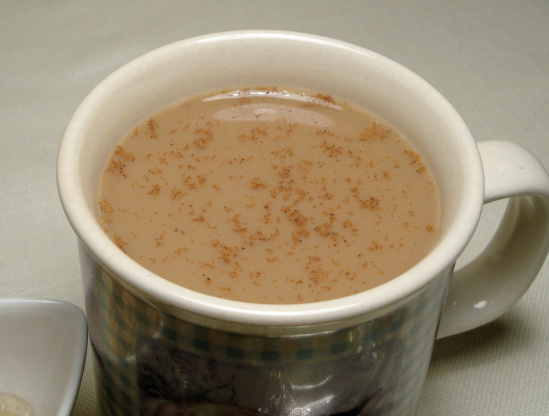 An easy flavored coffee just as tasty as the expensive stuff from the coffee shop. Quantities are a little vague because I'm not sure how my favorite, huge mug scales down to smaller cups -- use your sense of smell to find proportions that are flavorful, but not too candy-sticky because this is coffee to go with dessert rather than to substitute for the dessert. :) Since I like flavored coffees in the evening I usually use decaf -- brewed strong. Most of the prep time is brewing the coffee.

mmmmmm....perfect for a chilly Fall evening. I can't believe I never thought to heat the milk I use in my coffee before. That's a really great tip. Loved the vanilla and cinnamon combo. I used 1/3 C. of milk, since my coffee mugs are pretty big, and added 11/2 t. of sugar. So good! Thanks for posting.
1

cup strong coffee (hot and fresh)
1⁄4 cup milk (a tbs more or less according to the size of the cup)
1⁄8-1⁄4 teaspoon vanilla

1 -2

dash cinnamon
Put milk into the cup. Heat gently in the microwave about 30 seconds -- just to take the chill off so the coffee won't get cold too fast.
Stir cinnamon and vanilla into the milk (cinnamon goes into the milk easier than into the coffee).
Add coffee and sugar/Splenda. Stir well and enjoy.
Note: You can use a chunk of cinnamon stick in the cup instead of the ground cinnamon if you prefer.