Creamy Chunky Clammy Chowder
Parsley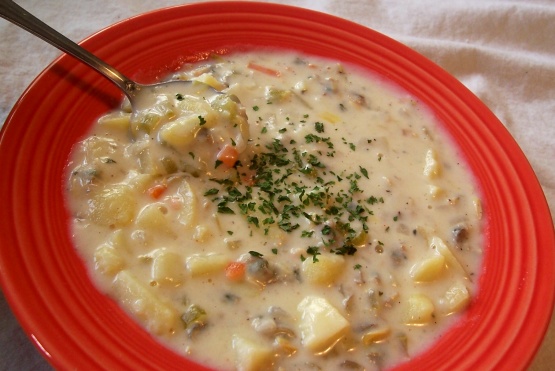 This is a hearty soup. Some may prefer to add more liquid. This recipe makes a lot, but it can be halved.
In a large soup pot, melt butter. Add celery, celery leaves, onion, carrots and garlic; cover and cook about 10 minutes (stirring occasionally) to soften veggies.
Add wine and potatoes. Add in the juice from ALL the canned clams (should be about 2 cups total); set clams aside. Add water, sugar, pepper, salt, paprika and parsley; bring to a boil. Reduce heat; cover and simmer for about 15 minutes (stirring occasionally) or until potatoes are tender.
Add the clams.
In a medium bowl, whisk together half and half with the flour until smooth; pour into soup pot. Stir well. Heat through and serve.