Creamy Chive Mashed Potatoes
lazyme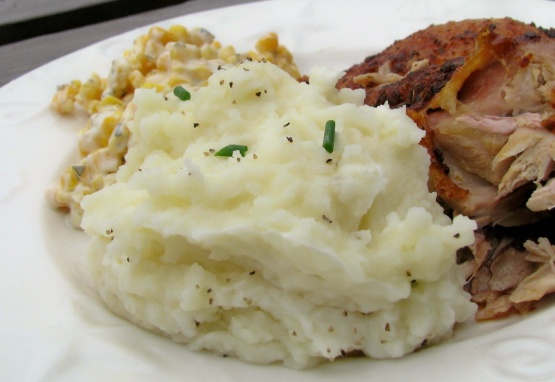 These are so fantastic that I always have to make extra. So creamy with the right amount of tang and balance. Great for any meal or occasion and also freezes well. It can also be dressed up by putting it into a casserole dish at the end, topping with cheese, and baking at 350 until cheese is browned.
Peel and cube potatoes and boil for twenty minutes in heavily salted water.
Allow all the ingredients to come to room temperature while the potatoes are boiling.
Drain the potatoes and in the bottom of the pot add butter and cream cheese. Place potatoes back into the pot, but make sure the stove is turned off.
Using a hand mixer (if you do not want to do this in the same cooking pot you can use whatever bowl you choose) start "mashing" the potatoes.
Add in chives and black pepper to taste and mix to desired consistency.
Taste for salt level and if it needs more add it in at this point.