Creamy Chickpea and Tahini Casserole
tamalita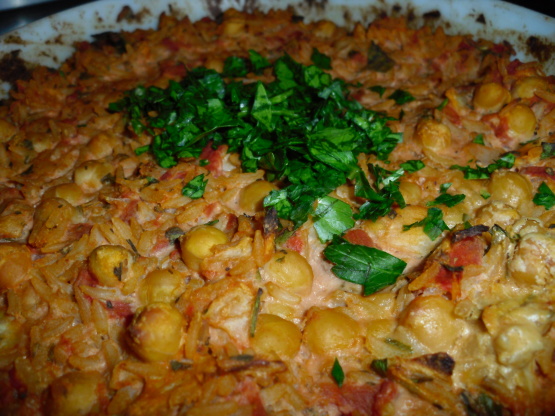 The ultimate in vegan comfort food. It's not a very specific recipe, and is open to much interpretation. It's a VERY modified version of what I found on the web. :)

I didn't have 2 cans of chickpeas so I used chickpeas and kidney beans and my tahini was a bit sketchy so I used peanut butter instead. This was DELICIOUS! I almost sauteed my onion like someone else suggested but at the last minute threw it in raw and I'm glad I did. It adds just enough bite but keeps the dish tasting very fresh. I will make this again and again.
Preheat oven to 375°F.
Mix tahini and water until well mixed (it should get kind of"fluffy"). Set aside.
Spray 9x13 pan with olive oil.
Dump all ingredients into pan.
Add salt and pepper to taste. Mix well.
Add tahini mixture, stir until well combined.
Bake at 375°F for approximately 40 minutes, until top begins to brown.
Sprinkle with sesame seeds, and bake 5 minutes more.
Serve hot!