Creamy Chicken-Wild Rice Soup
Nanners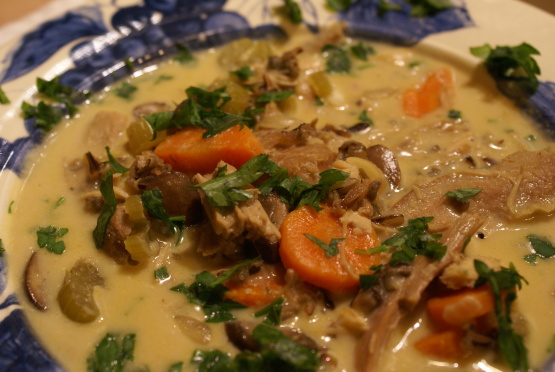 The boyfriend loves creamy chicken-rice soups, and this is my effort to that end. I like the addition of sherry and a dash of curry powder and it's a great way to use up leftover chicken (and presumably turkey). This soup will thicken up overnight; it can be thinned with more chicken stock without losing flavor; adjust salt and pepper to taste. Almonds are optional but add an interesting crunch; this soup is also "crockpot-able" if you prefer.

I loved this recipe! I doubled the recipe, which meant I didn't have 8 cups of chicken broth. Instead I put in half broth and half water with chicken bullion cubes. I also used regular milk instead of half and half. One other change was that I just added the rice uncooked, brought the mixture to boiling, and then simmered according to the recipe, knowing the rice would be cooked in time. The texture was perfect. Leftovers were great!
Saute onion, celery and carrots in a large sauce pan for 5 minutes.
Add mushrooms and saute another 5 minutes.
Add flour and stir well.
Gradually pour in chicken stock, stirring constantly (use a whisk if necessary to blend).
Bring just to boil, reduce heat and bring to simmer.
Add wild rice, chicken, salt, curry powder, parsley, black pepper, almonds (if using) and sherry.
Allow to heat through, then pour in half-and-half.
Simmer soup for 1 to 2 hours- do not boil.