Creamy Chicken Wild Rice Soup
Jollymae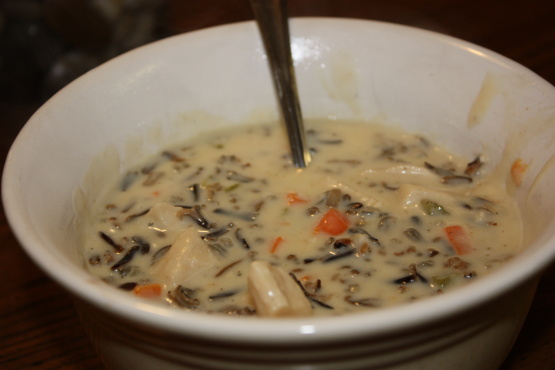 I usually double this recipe or triple it - we LOVE this soup (stew? it's on the thicker side)! You can easily freeze this to reheat later - I like to do it in my food-saver bags, then all I have to do is boil the bag. I tend to "eye-ball" my measurements on the onion, carrots, celery because they just add more wonderful flavor anyways. With the wild rice - you can either use the directions listed below or cook according to the package directions with as much rice as you want! :) Serve with a nice crusty bread - I really like french or ciabatta because they're both good at soaking up the last wonderful drops in the bowl!

Top Review by NancyB
Yum. A great recipe. Instead of cream I used cream of chicken soup. I didn't have any wild rice, so I used brown (still great). The poultry seasoning adds a really nice flavor. I used a rotisserie chicken from the grocery store - the mix of white and dark meat was great.
Rinse wild rice. Soak in cold water for one hour. Drain rice. Cover with boiling water and cook over low heat for 40 minutes.
Melt butter in a 4-quart pan, saute' onion, carrots and celery until tender. Blend in flour. Gradually add the heated chicken broth, stirring constantly, until slightly thickened. Stir in the rice, chicken, and seasonings. Simmer over low heat 7-10 minutes. Add the cream slowly to the soup. Heat just to serving temperature.