Nasseh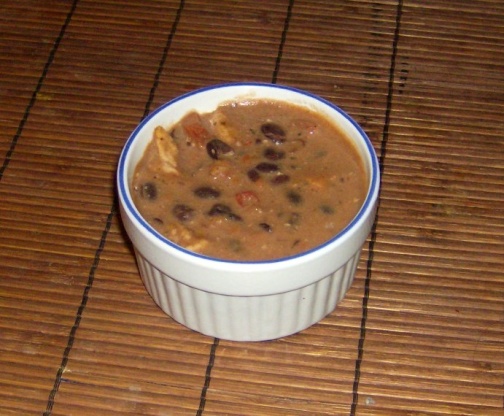 This is a creamy version of taco soup. Using cheap bone in chicken thighs and a crock pot make this a cheap and easy way to feed your family. I've put in the rice as optional. I always have pre-cooked rice in the freezer and it made a great addition, but this soup is also good on its own. The spice is on the mild side for my family. If you like hot, use hot taco seasoning or add hot sauce at the table. Add a salad and a nice piece of cornbread and dinner is served.
2

lbs chicken thighs, bone-in

14

ounces chicken broth, canned (or homemade)

10

ounces beer

2

stalks celery, sliced

1

onion, medium, diced

15

ounces black beans, canned, drained and rinsed

10

ounces Rotel Tomatoes, with chilies

15

ounces diced tomatoes, canned

1

ounce taco seasoning mix, 1 pkg

8

ounces fat free cream cheese, cubed

3

cups brown rice, cooked (optional)
tortilla chips, crushed (optional)
cheddar cheese (optional)
Remove skin and visible fat from chicken thighs. Place in crock pot with broth, beer, celery and onion.
Cook on high 2 hours or till chicken is done. Remove chicken from crock-pot and allow to cool. Remove bones from chicken thighs and chop meat to desired size. Add diced chicken back to broth in crock-pot. This step can be done ahead of time and refrigerated overnight. Then in the morning, skim off fat collected on top and allow crock to sit for 30 mins at room temp before turning on and adding other ingredients.
Add beans, tomatoes, and taco seasoning package. Return crock-pot to low for up to 8 hours or high for as little as two hours.
30 mins before serving add cream cheese to crock-pot and put on high. Stir well before serving, breaking up large pieces with back of spoon. If you are adding rice, do so now and allow to heat thru for a few minutes.
Top with crushed chips and cheese.