loof751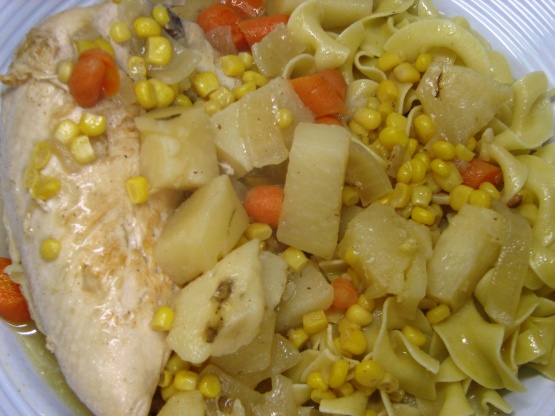 I most always add in fresh sauteed mushrooms when I make this, you can also add in a can of cream of mushroom soup, I have done that many times, and the wine can be reduced if desired. This is a wonderful chicken stew!

what a comforting stew!! I did add the mushrooms and the soup. I also added celery, peas some fresh parsley and a pinch of nutmeg. But if i didn't have those ingredients I am sure it would be great !! thank you so much for sharing that recipe Kittencal! It really hit the spot on a cold rainy day!
Season the chicken pieces with salt and pepper.
Heat the oil with butter in a large heavy pot over medium heat.
Brown the chicken on all sides (about 8 minutes per side) then transfer to a large bowl.
To the same pot add in onion, garlic, red pepper flakes (if using) and thyme; saute stirring occasionally for about 4-5 minutes.
Add in flour and cook, stirring 1 minute.
Whisk in broth, water and wine; bring to a boil, whisking continuously.
Add in potatoes, carrots and corn; mix to combine, cover with lid and simmer for 10 minutes, stirring occasionally.
Add in the whipping cream and Parmesan cheese (if using); mix to combine, then add in the browned chicken back to the pot along with any juices from the bowl, season with salt and pepper; cover and simmer until the chicken is cooked and the veggies are tender (about 25-50 minutes, or longer).