Zurie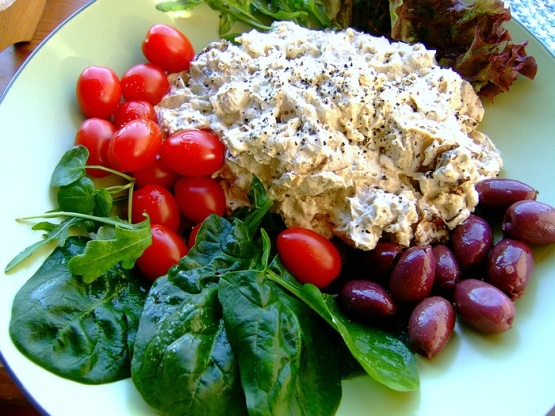 A chicken salad that doesn't use mayo...

Top Review by Zurie
MADE FOR PAC, Fall 2009. Didn't change a thing, except we do not have tinned chicken in South Africa. I'd ovenroasted a chicken yesterday, and DH and I both ate a whole leg plus wing each -- and the breast part was left! So that was perfect: I sliced that up. I had to make the recipe a little smaller, as I had only about 12 oz of chicken. I thought the salad would be far too bland, but it was not!!! It was delicious, if a little rich to our taste! I think buttermilk instead of sour cream might work well. In my photos it can be seen that I turned this into a filling starter salad. I do think the recipe as it stands needs some oomph ... maybe a little hot sauce, or sliced sweet peppers, but it can be dressed up in many ways. Thank you for a very good recipe!
Drain chicken.
Combine cream cheese, sour cream, pepper, worcestershire, onion, and garlic powder. Mix well.
Add drained chicken and mix well.
Allow to refrigerate for a couple hours to let the flavors develop and the onions soften.
Serve with crackers or make a sandwich!