Annacia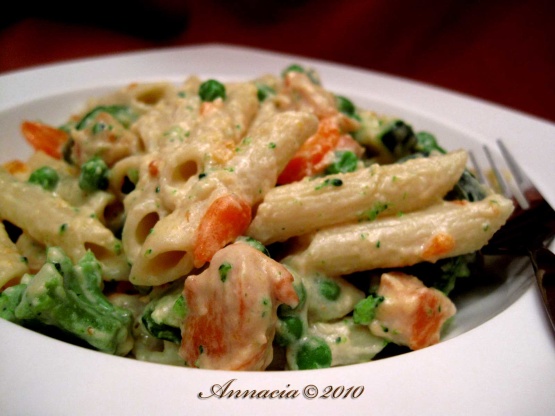 A great one-dish skillet meal.

Yet one more fabulous pasta dish presented by Lainey! Loved all the veggies in this. Only slight change was I used snow peas instead of regular peas just for fun! This would be wonderful even without the chicken for a meatless dinner! Loved it completely! Thanks Lainey for sharing in Gimme Five tag game.
Cook penne in boiling salted water for 12 minutes.
Add carrots, broccoli and zucchini for last 4 minutes of cooking pasta time.
Add peas during the last minute.
Drain; transfer to a large serving bowl.
Meanwhile, sprinkle chicken with 1/4 t salt and 1/8 t of the black pepper.
Heat oil in a large nonstick skillet over medium-high heat.
Cook 8 minutes or until cooked through.
Add cream, cheese, the remaining 1/4 t salt and 1/8 t pepper and nutmeg to skillet.
Boil for 2 minutes, until thick.
Toss with pasta and vegetables.