Parsley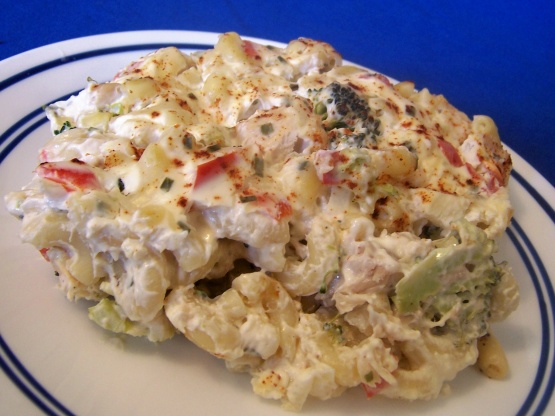 Prepare this ahead of time, then when your guests arrive, pop the pan in the oven and spend time with your guests! Also works great with almost any kind of pasta: layered like lasagna, stuffed in manicotti or big seashells, mixed willy-nilly with linguine or elbow macaroni. So many choices! Double the recipe, make two pans, freeze one and cook the other right away.

No mention of the milk in the dfirections. A no brainer but still...it should be included . My family & I didn't like this at all, we ended up picking out the brocolli & chicken pieces & eating that part & dumping the rest out. The only flavor to the recipe was cream cheese. I'm really glad I tried it out on family first. Will not be making it again.
Preheat oven to 350; grease a 13x9 pan; cook pasta according to package directions; drain; set aside.
On stove or in microwave, heat cream cheese briefly to soften; stir until smooth; add onions, chives and Parmesan cheese; stir to blend well.
Reserve 1 cup of cream cheese mixture; set aside.
Combine remaining cream cheese mixture with chicken, broccoli, pimiento, and pepper. Mix with pasta of choice (ie., layer lasagna, stuff manicotti or shells, etc.) and arrange in 13x9.
Spoon reserved cream cheese mixture over the top; sprinkle with paprika.
Cover tightly with foil and bake for 25-30 minutes (heated through).