Creamy Chicken or Pork Cacciatore in Crock Pot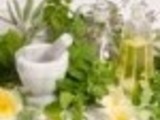 So easy, so good and the aroma will excite your taste buds. Serve with a salad and some crusty bread. Enjoy! The potato flakes you add at the end is what makes it creamy. Try this recipe with cubed pork loin to replace chicken.
Directions
Place all the ingredients in slow cooker except chicken and instant potatoes.
Stir together to combine.
Add chicken and push into in the juice.
Cook at High for 5 hours or at Low for longer.
When it is cooked remove some of the juice and mix with the instant potatoes.
Slowly blend this in the chicken cacciatore. Let cook for another 10 minutes.
Serve on your choice of pasta.
Sprinkle with freshly grated Parmesan cheese.
If you are making it with pork, brown it before adding to other ingredients.