Creamy Chicken on Linguine
Debi9400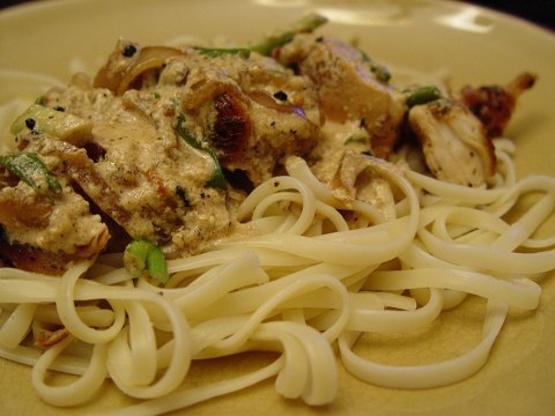 Something I found in a magazine. 14 April, 2008: I've put in Romano cheese, but it's the same cheese as Pecorino. I just mentioned it in the listing since that's the name Pecorino Romano is most commonly known by worldwide. TY Beautiful BC for pointing that out.

This was very tasty. I did do a couple of things differently but I don't believe it changed the basic recipe at all, just enhanced it. First thing different was that I used montery jack cheese instead of percorino cheese. Only because I have no clue what pecorino cheese is - can't be found in North Western Canada - and that it can be grated and easy to melt. I used a jalepeno Monteray Jack because we like it. I also added 1/2 cup of dry white wine (pinot grigio) to the chicken as it was finishing up cooking and put a lid on while it simmered. That was because my chicken breasts were skinless and quite thick. The liquid just helped to make sure they were cooked through and stayed moist. You could use chicken broth instead of wine. I like the way wine enhances the flavours. The only other difference was the addition of 1 tsp of red pepper flakes to the water and chicken stock cube. Thank you Galley Devil - we'll be enjoying this again frequently!
Heat oil, butter and garlic in a pan.
Add chicken and cook on both sides until tender.
Remove fillets from pan, cut diagonally into thin slices and cover to keep warm. (Reserve the oil in the pan).
To the same oil mixture add onion and cook, stirring, until onion is soft.
Add crumbled stock cube and water and allow to simmer, uncovered, until reduced by half.
Add cream, green onions and cheese and stir until cheese melts.
Bring a large saucepan of water to a boil. (If desired, add a little salt to the boiling water to season it.).
Add the pasta and cook till just tender. Drain well.
Transfer to a serving dish and arrange chicken mixture over the pasta and top with sauce.