Creamy Chicken Enchiladas
tkeiks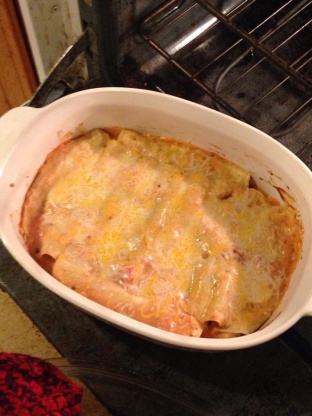 Found this recipe in a 'Quick Cooking' and made a few adaptions to suit my tastes and make it a little less time consuming. It reminds me of a dish at a local Mexican restaurant (enchilada de monterray). Very yummy!

Top Review by Bekah
Wonderful. Creamy, cheesy, easy, quick and tastes SO good. We loved this. I was a bit concerned that this might be too spicy for my mild son, but not at all. The cheese helps contol the spiceyness. We put some guacomole on the top to serve, side of chips and we were set. THANKS CBW!!!!
Mix together soup, green chilies, sour cream and 1 1/2 cups of cheese.
Put 1/3rd of this mixture in separate bowl.
Add chicken to remaining 2/3rds.
Place heaping spoonful of chicken and soup mixture on each tortilla shell and place seam side down in greased 9x13 pan.
Top with remaining soup mixture and sprinkle with remaining cheese.
Bake, uncovered, at 350 for 20, 25 minutes or until heated through.