Creamy Chicken Chipotle Stroganoff
lazyme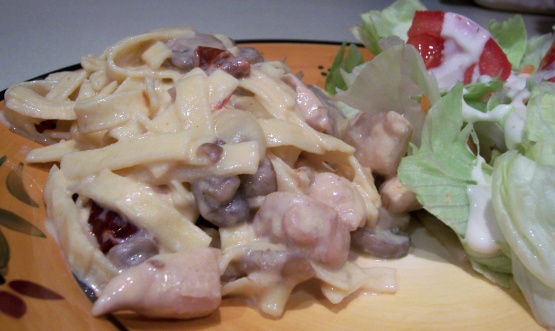 A TexMex style stroganoff that will tickle your tongue! I love that even the noodles cook up right in the chicken breast and sauce making this a true one-dish meal. Hurray for fewer dishes to wash! I almost always have these ingredients on hand in my kitchen which makes this a gret go to meal when I am short on time and / or energy. If you like you can serve this with a simple green salad to increase your family's veggie intake. Serving this dish also gives me a great excuse to enjoy some great Mexican beer like Dos Equis (XX) or Modelo. :)

I've been making this for a couple of years. WE LOVE IT!! Being from New Mexico I always put in extra chiles..hot!! We always have garlic bread with it, makes for a great meal. Just as good the second time around! This is one of my son's favorites. Everyone needs to try it at least one time.
In a deep and large frying pan or a dutch oven that has been lightly oiled or sprayed with cooking spray,saute chicken and onions for about 5 to 7 minutes or until chicken is cooked through and no longer pink in the middle.
Add broth, UNdrained mushrooms and UNcooked noodles and mix well. Bring to boil, then reduce heat to medium-low.
Cover and simmer 10 to 12 minutes or until noodles are tender and only a small amount of liquid remains.
Stir in peppers and cook for 2 minutes, stirring a few times to keep from sticking.
Remove from heat and stir in sour cream.