Prep 15 mins
Cook 30 mins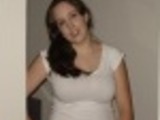 Received from a friend, sounds great!
Directions
Place the chicken in a 13 x 9 x 2-inch shallow baking dish.
Mix the soup, milk, garlic powder and mushrooms in a medium bowl and pour over the chicken.
Mix the cheese and bread crumbs with the butter in a small bowl and sprinkle over the soup mixture.
Bake at 400°F for 30 minutes or until chicken is cooked through.
Place the chicken on a serving plate.
Stir the sauce and serve with the chicken. Serves 4.
Most Helpful
This was fantastic! I made it according to the directions. I also made egg noodles on the side for the extra gravy! Will make again!
I used bone in chicken breast and thighs, homemade cream soup and instead of bread crumbs, I put cooked rice under the chicken and baked for 1 hour. Still wasn't done bcz my pieces were HUGE. Needs some salt (at least my homemade soup version) but everyone liked it. Left out mushrooms too.

A very good meal to come home to! I used the low-fat soup, because I've never noticed a difference in flavor. Used Italian Style breadcrumbs, and doubled the parmesan, just for grins!! It baked up in about 25 minutes. It looked a little "blah", so I sprinkled with paprika for color and ran the dish under the broiler for a minute or so. Wasn't clear on the amount of butter, so I winged it- about 1/2 of a stick. I will make this again, and play with it- maybe crushed cornflakes, extra broccoli... all in all, a good recipe!