Creamy Chicken and Rice Bake
Parsley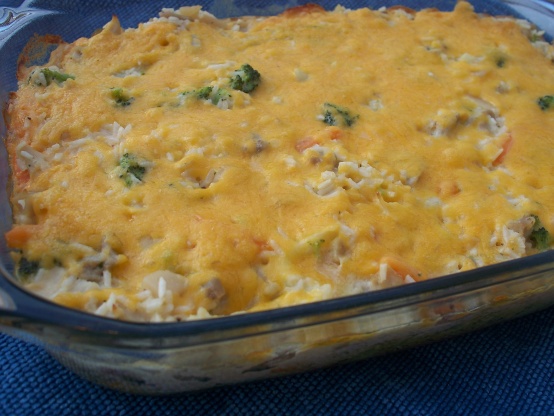 Everyone loves chicken and rice. This is quick and filling, easy and tasty to make when you're in a rush. You can add different spices (chili, curry) for a different taste.

Made as written except I only had 16 oz. bag of veggies and just used the whole bag. I did use a touch more water but next time I would add a little more as it was just a touch dry. I will make this again with just a little more water and seasonings. Thanks for the recipe!
Preheat oven to 350° F.
Grease 13 x 9-inch baking dish.
Combine evaporated milk and cream cheese in baking dish with wire whisk until smooth.
Add soup, water, garlic powder and black pepper; mix well.
Add vegetables, chicken and rice.
Cover tightly with foil.
Bake for 35 minutes.
Remove cover and top with cheese.
Continue baking uncovered for 10 to 15 minutes until cheese is melted and mixture is bubbly.
Let stand 5 minutes before serving.
Enjoy!