Creamy Chicken and Chile Casserole
megs_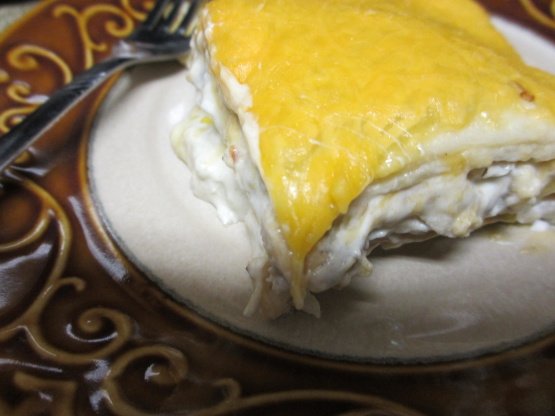 Yummy, creamy, fast, and easy! This could easily be doubled or made diet friendly by using low-fat cream cheese and light tortillas. The idea for this came from the back of the green enchilada sauce can, but it had twice as much chicken and enchilada sauce, but the same amount of cream cheese and chilies, also no spices were listed--and was for actual enchiladas--I'm way to lazy to roll up enchiladas 8)

Top Review by megs_
Out of this world delicious! I used low-fat cheese/cream cheese, but otherwise followed exactly. So creamy and yummy and the perfect amount of spice! My little guy (18 mons) LOVED it and couldn't get enough. :) Thank you so much for sharing -- going in my "Stars" cookbook -- this recipe is a star!
Heat oven to 400°F.
Cook chicken over medium-high heat until cooked through.
Add seasonings to chicken while cooking.
Add cream cheese and chilies.
Cook and stir until blended.
Arrange 2 tortillas on the bottom of a greased 8x8-inch pan (I cut the tortillas in half and put the straight edges along the edges of the pan, letting the tortillas over-lap).
Sprinkle the tortillas with a small amount of the cheese.
Pour the chicken mixture over the tortillas.
Sprinkle small amount of cheese over chicken mixture.
Arrange remaining tortillas on top.
Pour enchilada sauce over top and sprinkle with remaining cheese.
Bake for 20 minutes.