Creamy Cheesy Cauliflower Soup
Parsley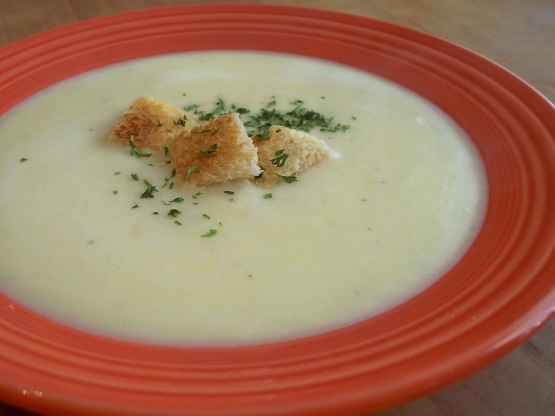 I was craving a yummy stick to your ribs soup and this one fits the bill...great for a cold night. I served it with quesadillas.

Really warms you up! I loved the flavor and silky smooth texture. I added a bout 1/2 cup of onion and reversed the amounts of the cheeses (used 1/2 cup white cheddar and 1 cup pepper jack). The pepper jack added a nice little kick to the soup. I garnished with homemade croutons as suggested. This is a winner. Thanx!
Melt butter over medium. Saute garlic in butter over medium heat for 1 minute. Add cauliflower, stock, and water and bring to a boil over high heat. Boil for 5 minutes and add potatoes. Boil for another 20-25 minutes, or until all vegetables are very soft (fork goes right through them). Blend with immersion blender or blend in batches in blender. Add fat free half and half and heavy cream and stir. Add cheeses and lower to low heat, stir until melted. Add nutmeg, taste and season with salt and pepper. I would make some homemade croutons and serve the soup with two floating on top.