Creamy Cheesy Cabbage Soup
Rita1652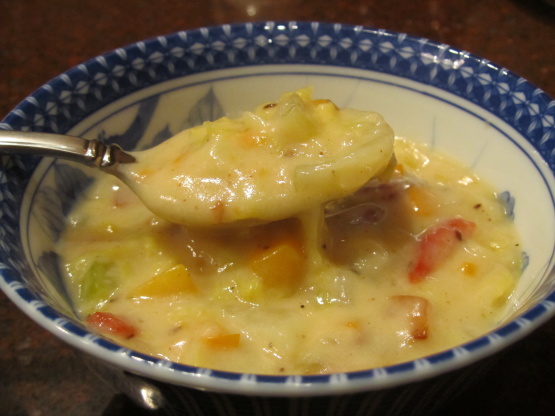 This soup is worthy of carrying a brand name label. It is also a great way to get the kids to eat their veggies!

Velvety, Very Rich, Rib Sticking good! 1/2 cup of butter is way to much for our diets. I used 1/4 cup. The flour I kept as called for but this was very very thick and I should have cut the flour back as well. This also serves more like 4-5 making it much higher in fat calories and cholesterol the end product produced 5 cups of soup. And that is 5 servings only if you stopped eating at 1 cup. :) Salt I don`t use and was needed so I did add. I also did add pepper flakes giving a nice kick. Used 4 cup of nappa cabbage. I also did add the 4th cup of vegetable broth even though the directions didn`t state to. I added when I saw it was a bit to thick. The dill seed was a nice touch.
In a large saucepan cook vegetables in 2 cups vegetable broth until tender, about 45 minutes. Add dill seed.
While vegetables are cooking make sauce as follows: Melt butter in medium saucepan; stir in flour and cook 1 minute, stirring constantly. Stir in milk and remaining 2 cups vegetable broth. Cook over medium heat, stirring occasionally until thickened, about 8-10 minutes.
Add cheese, thyme, and white pepper.
When cheese has melted, add to vegetable mixture and stir well. Add crumbled bacon and stir again.
Serve hot and enjoy!