Rita1652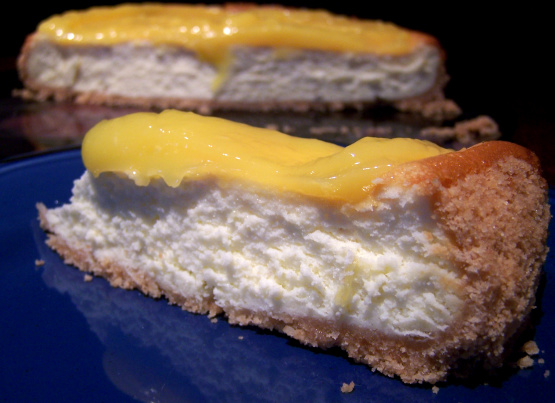 Very rich and very creamy. My friends were not able to have more than one piece even though it was delish. This is a hearty dessert. Not for the weight watchers!
Prepare shortbread cookie crumb crust ( Recipe #54869 ).
Press crust evenly over bottom and sides of greased 8 inch spring form pan.
Refrigerate 15 minutes.
Place cream cheese, sugar, flour and salt in large mixer, Beat at medium speed until smooth, scraping down sides of bowl as needed.
Add sour cream, 2 egg yolks, the whole egg, lemon juice and vanilla to cheese mixture, beat at medium speed, until well blended.
Beat egg whites and cream of tartar in clean bowl at high speed, until soft peaks form.
Fold egg whites into sour cream mixture.
Pour batter into prepared crust.
Bake in preheated 325°F oven until center is almost set and jiggles Slightly, about 1 hour.
Turn oven off let cake sit in oven with door ajar until cake pan is cooled to room temperature.
Refrigerate cake uncovered in pan until firm 8 hours to overnight.
To serve remove from pan.
Beat whipping cream in small bowl till soft peaks form.
Spread on cake.
Sprinkle with ground cinnamon.