Nimz1466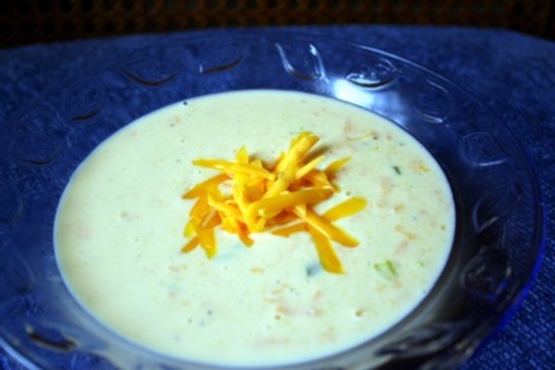 As the fall weather approaches, I always like to get out the soup recipes. This is a great one for all you cheese lovers out there! Originally from Webchef.
Combine chicken broth, carrots, and green onion in a Dutch oven pan and heat on medium heat.
In a medium bowl, combine milk, flour, dry mustard, and pepper and mix well.
Stir into chicken broth.
Cook, stirring occasionally, till thickened and bubbly.
Remove 1 cup of the broth from the pan and place in a medium mixing bowl.
Add softened cream cheese and stir until blended well and cream cheese is almost melted.
Pour this back into the heated broth mixture and stir well.
Heat through.
Just before serving, add sharp Cheddar cheese and stir until all is melted.