racrgal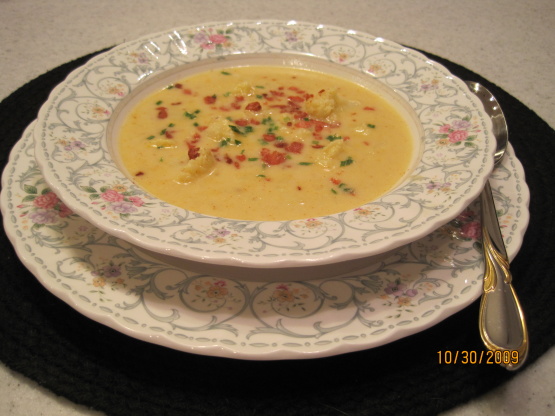 The addition of Worcestershire sauce to this recipe gives the soup a pleasant bite. If you wish a milder flavour, it could be omitted.

Fantastic! Impressive for little effort. I prepared this exactly as directed. The taste was excellent. The cheese did not overpower the cauliflower and the chicken stock kept it from tasting overly milky. This is a thin soup and we prefer thicker soups. That was easily remedied by using an immersion blender for about 5 seconds simply for personal preference. Topped with a sprinkle of chives and bacon bits, this soup is elegant enough for your best dinner party.
Cook cauliflower in about 1 cup water. Drain and reserve liquid. Set cauliflower aside.
Melt butter, add onion, and cook until soft.
Blend in flour, add stock and bring to a boil, stirring well. Stir in 1 cup cauliflower liquid, milk, Worcestershire sauce and salt. Add cauliflower and cheese and heat through.