Creamy Cauliflower Leek Soup
Torricus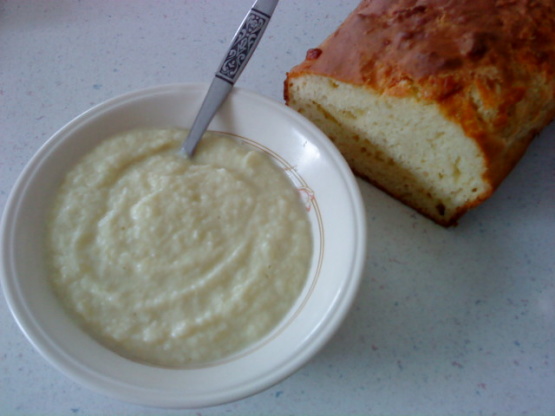 A nice springtime soup. Serve with warm French bread.

Excellent recipe! I used Kittencal's suggestion and added garlic and red pepper flakes. Love the use of greek yogurt instead of milk or cream - really enhances the flavours. I left a little bit of texture in it. I doubled the recipe but forgot to get another head of cauliflower so just added some broccoli. Definitely a keeper. (knew it would be - when you see mikekey and Kittencal on the same page, you know it'll be good)
Halve the leeks lengthwise, then slice them into half-moon shapes approximately 1/2-inch thick. Rinse the leeks thoroughly to remove any dirt.
In a large pot, melt the butter over medium-high heat. Add the leeks and cook, stirring frequently, until they're tender. Do not let brown.
Add the cauliflower and chicken broth. Turn heat to high and bring to boil. Reduce to simmer and cook until cauliflower is tender. Add the yogurt and return the soup almost to a boil. Remove from heat.
Purée the soup, in blender or food processor, as finely as possible. Season with salt and freshly ground pepper. Add milk to thin if needed, and return to pan and reheat over medium heat.
Serve.