Creamy Cauliflower and Brie Soup
Rita1652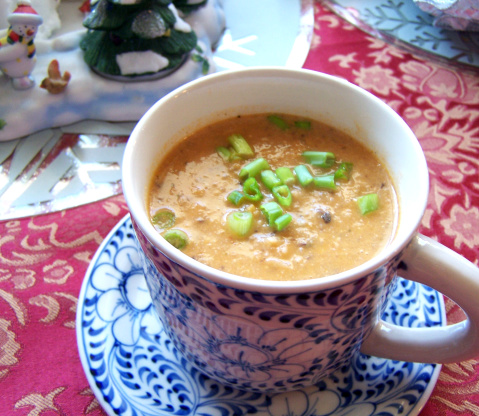 From "Trim and Terrific: Freezer Friendly Meals"

I wish this soup would have had an actual brie flavor instead of all the thyme flavor. I made some adjustments to mine. I used plain soy milk instead of skim. I did not blend it in anyway. I added instant mashed potatoes to thicken it as mine did not ever seem to thicken. I dont think this was a BAD soup at all I just bumped it up a notch to make it a heartier soup.
In a large sauce pan, saute onion in olive oil until transparent.
Add cauliflower and cook on medium for 5-7 minutes stirring often.
Sprinkle flour over tender crisp cauliflower and then pour in chicken broth.
Add milk and cook until mixture begins to thicken.
Stir in thyme and brie and remove from heat. Stir until brie is melted and then add salt and pepper if desired.
Use an emersion blender to blend soup or transfer to a blender or food processor instead.
Garnish with green onions before serving.
To freeze: Cool completely. Pour into freezer containers, label and freeze up to four months. To serve: defrost overnight in the fridge. Warm in microwave or on stove top without letting soup come to a full boil.