Creamy Carrot Soup With Star Anise
Annacia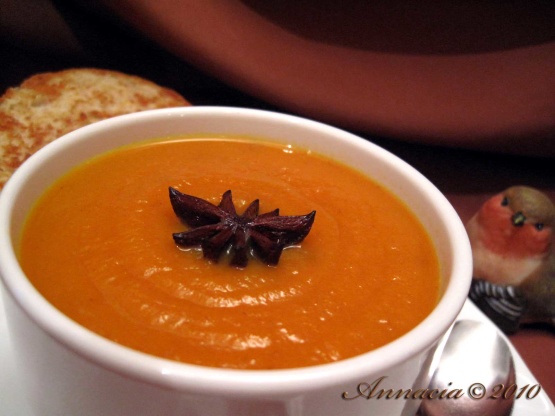 From Bon Appetit 2005. Comforting and delicious! For presentation, garnish each soup serving with a whole star anise if desired.
Just home from a trip to Ireland, and wanted to replicate a carrot-anise soup we enjoyed at La Cave, a French wine bar in Dublin. This is pretty close, although I used half milk/half veg stock for the liquid. Yummers!
In large stock pot over medium heat melt the butter. Add chopped onion, 3 star anise, bay leaves and garlic. Saute until the onion starts to soften and glisten, about 5 minutes.
Add the carrots and fresh stock. Cover, bring to boil and simmer until carrots are very tender, approximately 30 minutes.
Remove star anise and bay leaves. Using an immersion blender puree the soup until very smooth. Season with salt and pepper to taste.
Take the remaining star anise and grind to a fine powder. Stir a little into the soup. Adjust seasoning and add more star anise to taste. Stir in the fresh minced chives.
Serve hot.