Creamy Cardamom Rice Pudding (Vegan)
Rita1652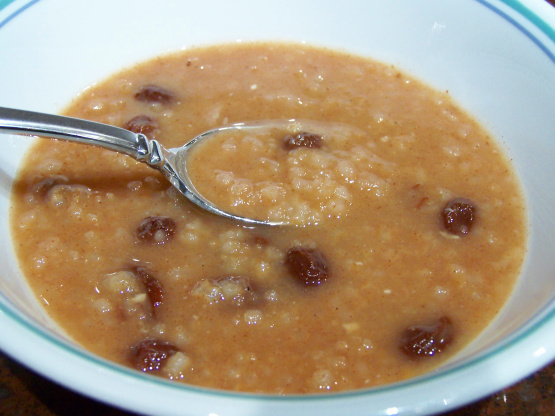 From the October 2008 issue of Vegetarian Times.

Pretty much followed this recipe, although I did include a double measure of the rice as well as an additional 1/3 cup of dark raisins! VERY, VERY TASTY PUDDING & well-worth making again! Thanks for sharing the recipe! [Tagged, made & reviewed for one of my Vegan groupmates in the Vegetarian/Vegan Recipe Swap #6]
Bring soymilk, rice and salt to a boil in saucepan. Reduce heat to medium-low, and simmer 15 to 20 minutes, or until rice is tender. stirring frequently.
Stir in brown sugar, raisins, almonds, vanilla, cinnamon, and cardamom. Cook 5 minutes, until thickened.
Remove from heat, and divide umong 6 bowls. Serve warm or cold, garnished with chopped almonds and sprinkled with rose water, if desired.