Luschka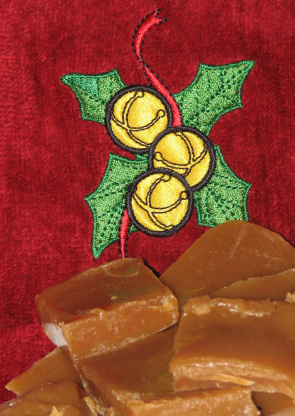 These delicious candies are incredibly quick and relatively easy to make if you have some experience with candies. From switching on the oven to popping the tray in the fridge takes less than 25 minutes. I don't have a sugar thermometer, so I do it the old fashioned way ice water. Be careful though, these burn really really easily. Don't stir it, but lift it off the stove from time to time if it starts looking like it's getting too hot. Cooling time not included.

Top Review by KaraRN
I was a bit confused by the directions on this. It states to reach a hard ball stage. Which would be a bit over 125 C on a sugar thermometer. I went with the hard ball stage, and I think it tastes burnt, and looks burnt as well. Im not sure if hard ball stage is the correct temp here. Made for fall 07 Photo game.
Place sugar and water in a heavy based saucepan and cook over a medium heat, stirring, until sugar dissolves.
Add butter, vanilla essence and cream, increase heat and boil, without stirring, until mixture reaches hard ball stage (A small amount of syrup dropped into iced water should form a soft ball when rolled with fingers and be hard enough to hold its shape) or 120C on a sugar thermometer.
Pour caramel into a lightly oiled 20 cm square cake tin. When almost set, cut into squares.
Cool for about an hour.