Creamy Cabbage & Ham Soup
Parsley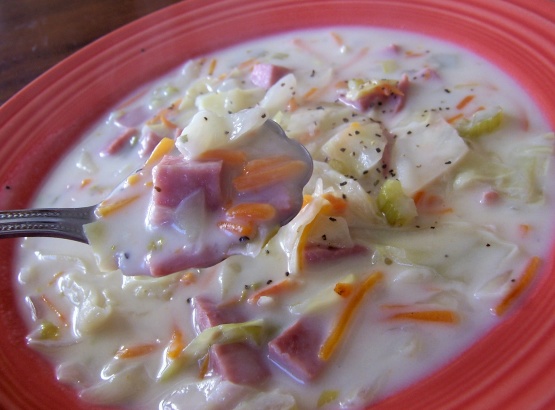 This is so good to serve on these below 0 degree days we have been having. A real comfort food for me. I have also chopped up turnips and added along with the other veggies. Serve with a nice crusty bread.

Wonderful soup. I added two red potatoes, and instead of using the evaporated milk/flour/water, I used 3TLBS cornstarch mixed into 1/3 cup milk, and then at the very end added 1/3 cup cream.
In a large pot, combine the first 9 items and cook on high heat bringing mixture to a boil Reduce heat to medium/low (just a simmer) for about 40 minutes or until vegetables are tender.
Stir in the can of evaporated milk.
mix flour and water until smooth and add slowly to soup mixture.
Cook, stirring occasionally until mixture comes to a boil.
Season with salt and pepper to taste.