Creamy Butternut Squash, Green Apple & Curry Soup

This is a wonderful soup for winter. It's very creamy & flavorful but it is low in calories because there is NO CREAM. If you don't tell... no one will know it's not a full-fat version!!
Directions
In a large soup pot, saute onion in oil until clear.
Add curry powder & cook for 1 minute.
Stir in stock, squash & apples. Bring to a boil.
Simmer, covered until squash & apples are fork-tender.
In a blender (or food processor)puree tofu and soup in batches
Return to pot & season w/ salt & pepper.
Most Helpful
I was extremely pleased with this soup. I love that it is nutritious and low fat, but I am really impressed with it's flavor. I highly recommend this soup.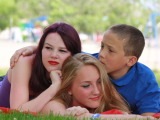 A fantastic recipe! A container of tofu is 14 oz & I didn't feel like measuring/weighing out 8 oz so I just added it all. ;) It was thick & creamy but not overly. I did add extra curry & a good TB of salt & plenty of pepper to make up for adding extra tofu, which blandified the soup a bit. I also used my immersion blender instead of dirtying up the blender or food processor. Worked like a charm. THE PICKY ONE wasn't thrilled but the rest if us were. This would be nice on a holiday table & very easy to multiply. I made this for PAC 9/06. Thanks for posting!
I never write recipe reviews, but for this one, I had to! I can't believe how easy and good this soup is. I made 1/3 of the recipe, and it simmered in no time at all. It is warming, filling, and great with a glass of Malbec and fresh bread.