PaulaG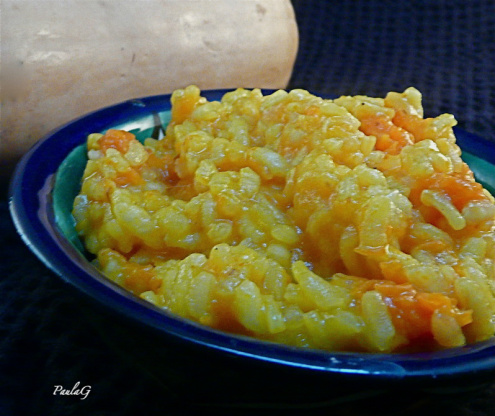 this was the $400 winner in Better Homes and Gardens Rice on the Side catagory contest. Entered by Nancy Skahill, Greenlawn, N.Y.(March 2002). The picture is what got me. It looks so good!
Top Review by PaulaG
I can understand why this was a winner because it really is. Leftover roasted squash was used and added the last few minutes to just warm it through. I used all chicken stock for the liquid and used about a cup or so more than the recipe called for. This is a delicious recipe that would make a wonderful main course or served as a side. Made for Aussie Swap.
In a medium saucepan, bring broth to boiling. Cover and reduce heat until broth just simmers. Meanwhile, in a large nonstick skillet, heat oil over medium heat. Add garlic; cook and stir for 15 seconds. Add squash cubes and rice. Cook and stir 1 more minute.
Slowly(and carefully) add 1/2 cup of the hot broth and the turmeric or saffron to rice mixture, stirring constantly(if using wine, add before the 1/2 cup broth, let absorb, then continue). Continue to cook and stir over medium heat until broth is absorbed. Continue adding broth, 1/2 cup at a time, stirring constantly until the broth has been absorbed but mixture is creamy. This should take about 25 minutes.
Remove from heat. Stir in butter or margarine, the 2 tbls. Parmesan cheese, and pepper. Spoon into a serving bowl. Sprinkle with additional finely shredded Parmesan cheese. Taste for seasoning and add salt and more pepper if desired. Enjoy!
Note:.
1/4 cup of white wine added before broth and cooked until absorbed, then continue with directions can be used to add even more flavor. This is optional.