Creamy Buttermilk Pie from Farm Journal
flower7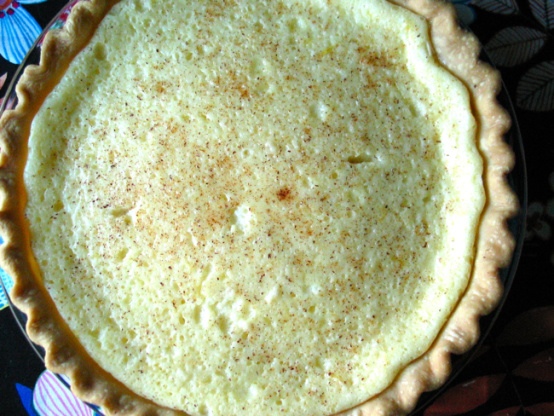 From the Farm Journal's Complete Home Baking Book, pg 300. This was different from other buttermilk pie recipes already posted. I did increase the lemon zest a bit when I made it (probably closer to 1 tsp). Per the cookbook: "A lemony custard pie with the texture of a cheesecake, topped with a sprinkle of ground nutmeg."

There's always that one, magical item on the Thanksgiving menu that stands out
over all the rest: this one! Made as written (except for doubling the amount of lemon zest) and using a standard homemade pie crust. I can best describe the texture of the pie as somewhere halfway between soft cheese cake (New York-style?) and a lemon pudding. Wicked good-especially with a cup of freshly brewed coffee...for breakfast....! ;)
Preheat oven to 425°F.
Combine eggs, buttermilk, & sugar in a mixer bowl.
Add flour, melted butter & lemon zest and beat at medium speed until blended.
Pour mixture into pie shell. Sprinkle with nutmeg (I grated it fresh, right over the pie).
Bake at 425F for 15 minutes. Reduce temperature to 325F and bake 25-30 more minutes, or until knife inserted halfway between the center and the edge comes out clean. Cool on a rack.