Creamy Brussels Sprouts With Bacon
Glutton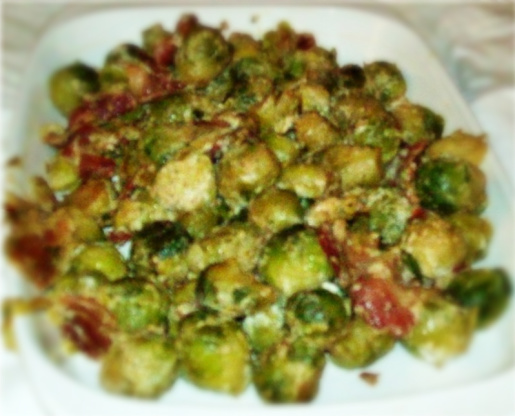 Quick and easy to prepare, and not a bad way to get the young'uns to eat the much-hated Brussels Sprouts. The sweet & smoky bacon counters the bitterness of the sprouts. And don't use non-fat sour cream - full fat works better.
2 1⁄2 lbs Brussels sprouts, sliced lengthwise (frozen is good, fresh is better)

6 -8

slices thick center-cut bacon, cut into strips
1⁄2 cup sour cream
Add sprouts to boiling water (with decent amount of salt). Boil no longer than three minutes. Remove from pan, draining thoroughly (save 2 tablespoons of the water).
Fry bacon until desired crispiness; remove from grease. You may either cut or crumble bacon. Discard half of grease, leaving the rest in the frying pan.
Add sprouts and bacon to the bacon grease; use a spatula to fold in, coating the sprouts and bacon into the grease for two minutes.
Add sour cream and reserved water; reduce heat to medium and continue to stir for 2-3 minutes. Place in serving bowl, sprinkle with salt and pepper, serving immediately.