Creamy Brown Rice Pudding
Katzen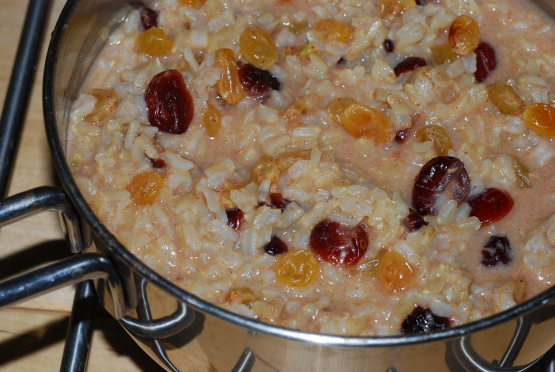 From the Famous Brand Name Recipes cookbook 'WHOLE-GRAIN COOKING,' this recipe is a nice change from the puddings made with white rice! [NOTE: If you use any butter when cooking the rice, DO NOT add another tablespoon of it as per this recipe.]

This is a pretty good recipe, simple and the kids like it. For me it was WAAAAY too sweet. I had to add more rice and milk after starting this batch with the recommended half cup of maple syrup. In the end I made a double recipe without adding more syrup and that was better. I also used far less raisins than the recipe calls for. I guess it depends on how much you like raisins. My other tweak to this one was I used salted butter and added about a tsp of salt. It was too bland without it.
In medium saucepan, combine rice, milk, syrup [& raisins, if including them], & bring to boil.
Reduce heat & simmer 20 minutes, stirring frequently.
Remove from heat & stir in butter & cinnamon.
If desired, garnish with additional cinnamon.