Bev I Am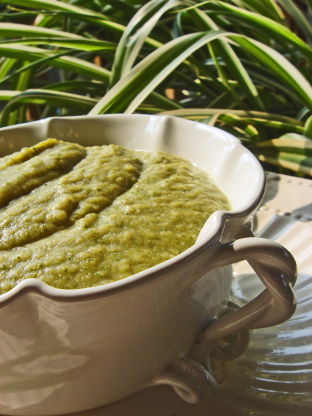 This is really good. I didn't blend it, so it had a slightly different consistency, but it was still yummy! Be generous with the black pepper.

I like this soup, but feel it needs something more. I added garlic with the onion & lots of salt & pepper to our bowls, but it still needs *something* we just can't put our finger on it. Bev's pic of the soup looked very thick (like mashed avocado :) ) so Matt added another 3/4 - 1 cup of stock. I'll make it again, but play with it a bit; maybe add a carrot or 2.
In a saucepan, sauté the onion in oil until golden.
Add the stock, broccoli, beans bay leaf and allspice.
Bring to a boil.
Reduce heat to a simmer, partially cover and simmer until the broccoli is tender.
Let sit for 5 minutes. Remove the bay leaf.
Puree all or part of the soup before serving.