Creamy Blue Cheese French-Style Dressing
Plan ahead this dressing must be chilled for 6 hours or more before using. The mayonnaise is only optional--add in for a more creamy dressing.
Directions
Place all ingredients except the blue cheese, salt and pepper in the food processor; process until well blended and smooth.
Mix in the blue cheese, then season with black pepper and salt to taste.
Place in a glass jar and cover tightly.
Chill for a minimum of 6 hours before using.
Most Helpful
This is very tasty and a unique blue cheese dressing. It tasted very much like French dressing with blue cheese added. I found it to be a little on the sweet side (and would probably cut back on some of the sugar next time) but again, once it sat, the flavors melded together nicely. I halved the recipe and it still make a lot! We had it two nights in a row, and I'm sure we can get two more nights out of it. Made for ZWT5 by a Groovy GastroGnome.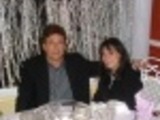 A delicious and easy dressing to make thanks Kitten! I halved the quantities and used home-made mayo too. We ALL loved this on fresh lettuce and tomatoes for our salad lunch today - the tangy flavours of the paprika and lemon was a great edge to the creamy dressing. I also added some finely chopped parsley too. Made for Europe on a Plate and VERY much enjoyed! FT/Karen :-)

When I first made this and tasted it, I wasn't too sure, the onion was very strong. But after letting it sit for 6 hours(like the recipe instructs), it is delicious! I served over a mixed greens salad and licked the bowl! Thank you Kit! I didn't get a photo, but hope to in the future!