Creamy Basque Shrimp Scampi

Delicious! It is served here in a local Basque restaurant, and pairs well with rice or pasta. This can easily be made with less butter or no cream, if you'd like.
Directions
Season the shrimp with salt and pepper, then dust with flour.
Heat the oil in a large heavy skillet. Add shrimp and cook over medium heat about 2 minutes per side.
Remove shrimp from pan and drain the oil from pan.
In the same skillet, warm the wine over low heat. Add shrimp and cook for 1 minute.
Add butter, lemon juice, and heavy cream. Cook 1 or two minutes more.
Sprinkle with parsley.
Most Helpful
Using Icelandic baby shrimp, I made a half recipe of this delicious scampi for the PRMR game & served it as an appy in gratin dishes over toast points for Christmas Eve dinner w/DH & my MIL. Other than using butter vs vegetable oil, I made just 1 other chg & added garlic that I see as a must (for me at least) in a scampi recipe. It was richly flavoured, generously sauced, well-received & an elegant start to our main holiday meal. Thx for sharing your recipe w/us. :-)

Very tasty, as well as quick and easy to make. I normally like to add garlic to everything, but it was not missed here. The shrimp have a very rich, flavorful quality. The only thing different I did was to add a pinch of cayenne. Then I served it over 8 oz. of angel hair pasta (any more would absorb all the sauce). I will definitely make this again, and try it with orzo. Thanks for a lovely recipe. Made for PRMR.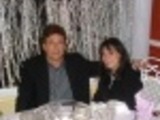 This is a great recipe. It is absolutely delicious. It is also very quick. I followed the ingredients per recipe except I only used 1 T lemon juice because of personal preference. Made for PRMR.