Creamy Banana, Lemongrass and Coconut Soup
Demandy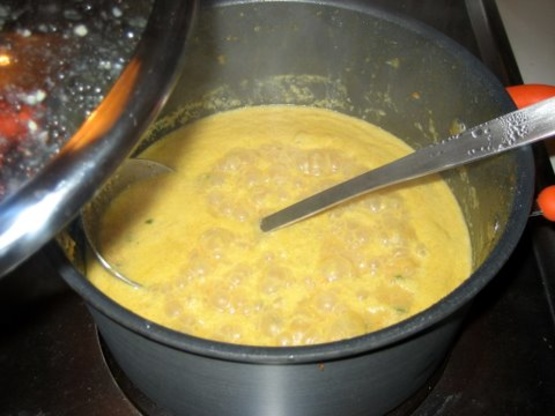 From Bon Appetit October 2005 magazine courtesy of the Four Seasons' Hotel in Los Angeles. If I didn't post this recipe I knew sometime down the road I would have regretted it.

I love making things that are a departure from the ordinary, so this was something I definitely wanted to try! This was wonderful after making a few variations/additions: I added lots more heat and also added 3 extra bananas to the soup (which didn't taste too-banana-y at all surprisingly!) because all I could taste was orange juice midway through the cooking phase! I also doubled the recipe which was a BAD idea on my part because I had enough to feed an entire ARMY! I really enjoyed this soup and will surely make it again. As with any southeast Asian dish, this tasted even better the next day after letting the flavors "brew" a bit overnight.
NOTE: Soup can be prepared one day ahead then reheated.
In a heavy, large saucepan over medium-high heat, heat the olive oil. Add bananas and saute about 4 minutes or until starting to brown.
Next add the onion, leeks, celery, carrots, garlic, lemongrass puree and chili paste. Saute another 10 minutes or until vegetables start to brown.
Add the cumin powder and reduce heat to medium, sauteing the mixture another 2 minutes. Now add the orange juice, reduce heat to low and simmer 2 minutes.
Add fresh stock, still simmering until the vegetables are tender, about 10 more minutes.
Using a hand held immersion blender, puree the soup until smooth. Stir in the coconut milk and the cilantro, simmering over medium heat until heated through.
Season to taste with salt and pepper.