Creamy Balsamic Salad Dressing
I got this off a blog: My Life as a Mrs. I was wanting more Ken's salad dressing: creamy balsamic and I figured I could make some...off I went to google and found this one...
Directions
Mix all together use immersion blender or something -- I just shake it all together in my tupperware dressing mixer.
:).
Reviews
Most Helpful
I cut this down for two and was excellent with our Italian meal.

So glad I just made this! Yum! I always have all of these ingredients on hand too. Highly recommend this.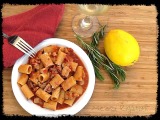 Yummy! This blended together beautifully. It's tangy and tasty. I will love having this in my salad dressing rotation. I halved the recipe and it made enough to last me two weeks, I think. Made for the Spring 2014 Pick-A-Chef event in the contest and events forum.