gailanng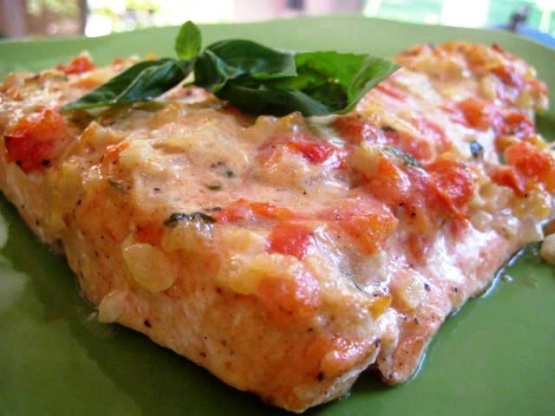 One of my husband's recipes. We like to make this with lemon basil; it gives the dish great flavor!
This was a real crowd pleaser. Comments started pouring in from the first bite. I made sure the onions were almost done before adding the garlic. Seems the garlic overcooks if I add them at the same time. I used canned diced tomatoes, so didn't simmer as long as suggested. I used half and half and fresh basil. The salmon was incredibly tender. It took me 20 minutes to cook to a temp of 135F, but my filets were about 8 oz instead of 6. Will definitely try it with fresh tomatoes next time. I was in a bit of a time crunch.
Sauté onion and garlic in butter on medium high until onions are translucent.
Add tomatoes and cook on high for 5 to 10 minutes untill tomatoes start to break a part.
Add cream and simmer on medium low for 5 minutes.
Stir basil, salt and pepper in to cream sauce.
In an oiled baking dish, pour cream sauce over salmon. Cover and bake for 12 minutes at 350°F.
Serve over pasta, rice or steamed veggies.