You can also add a small can of mushrooms to this dish. Very easy side dish to cook with an oven meal.
Directions
Mix all ingredients together and place in a greased casserole dish.
Bake at 350° for about an hour.
Most Helpful
I loved this dish! My mom used to make a dish with chicken baked with rice and c.o.m. soup, but I must admit I always liked the rice better than the chicken. This had the taste of that yummy rice, and I served it on the side of a favorite chicken dish I like better. :) I added three cloves of garlic, and it was wonderful. The recipe didn't say whether to cook covered or uncovered, so I assumed covered; when I checked at 50 minutes, the rice was done, but there was way too much liquid left. It was no problem, though; I just uncovered and cooked an additional 15 minutes. It was perfect! This is a definite keeper.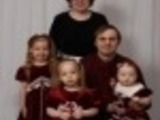 This rice is easy to do on weeknights. I baked it while doing my exercices and then we were ready to eat and the rice was ready. Easy to prepare also. And great taste. Thanks Marie :) Made for Cookbook tag game
Tastes really good. I used basmati rice and no problem. I will definitely do it again. Thanks!