Creamy Baked Gouda Macaroni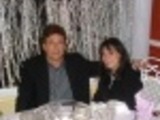 A slightly more elegant version of that family favorite Macaroni and Cheese!
1 (10 2/3 ounce) can cream of chicken soup
1 cup milk
1 tablespoon chopped chives
1⁄2 teaspoon dry mustard
1⁄4 teaspoon hot pepper sauce
2 cups elbow macaroni
1 1⁄2 cups gouda cheese, cut into 1/2-inch cubes, about 8 oz.
2 tablespoons buttered bread crumbs
Directions
Preheat oven to 400 degrees.
Cook macaroni according to package directions; drain.
In 2-quart casserole dish, combine soup, milk, chives, mustard, and hot pepper sauce.
Stir in macaroni and cheese. Sprinkle with bread crumbs.
Bake 25 minutes or until hot and bubbly.
Most Helpful
My Husband and I thought this recipe was a bit bland. We like the kick that cheddar gives mac and cheese better I guess. I liked the addition of the chives though. Thank you.
I had a slight problem with this,as in the fact that mine turned out to be pasta in cheesy/chicken soup. I'm not saying that that was a bad thing though,as it tasted REALLY good,so it was enjoyed anyway...hence why this received its' stars. Well worth a go,as the flavour is great!! Made for PRMR.