Creamy Baked Eggs for Two
SharonChen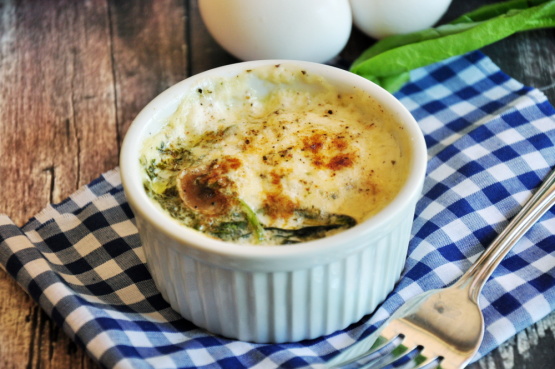 You can change this up a bit by adding crumbled, cooked bacon, or ham, or cooked spinach at the bottom of the ramekins.

Fast, easy and tasty. A great starting point and a lot you can do with it. I added chopped cooked bacon to the bottom with a layer of chedder cheese then followed the directions as listed. I did add 5 minutes to the bake time as I like my whites firm. Served with fresh baked bread that we toasted and hot coffee.
Preheat the oven to 325 degrees.
Butter two 8 oz ramekins, and then crack 2 eggs inside each. Be careful not to break the yolks.
Sprinkle parmesan cheese on top, and then salt and pepper.
Pour two tablespoons of cream over the egg mixture in each ramekin.
Place the ramekins on a cookie sheet and bake for 10 to 20 minutes, or when they are done to your liking.