Creamy Baked Brussels Sprouts
Parsley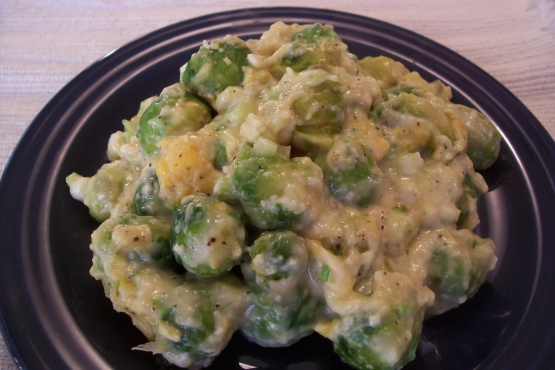 These are soooo good, if you like Brussels sprouts that is....

We love brussels sprouts! I'm happy to have found this recipe for a nice change from plain old steamed sprouts! I used fresh brussels sprouts, trimmed and cut in half. I also cooked for a bit longer than the recipe said (to make sure the sprouts were tender and the dish was nice and bubbly). I also increased the temp to 350 for the last few minutes of cooking. This was such a delicious way to serve sprouts! My only complaint would be that the dish seemed a bit too salty for us. I think next time I will not add salt to the recipe and use low-sodium soup. We can always add salt to taste later on. I'll definitely make this again!
Defrost the brussels sprouts slightly in the microwave, just so you can cut them in half easily with a sharp knife.
Cut all brussels sprouts in half, if needed so they are all similar in size.
In another bowl, mix the rest of ingredients, add the brussels sprouts and toss lightly until they are all coated.
Put into a greased casserole dish and bake about 1/2 hour in 325 degree oven until bubbly hot and the brussels sprouts are nice and tender.