Creamy Baked Asiago-Gouda Fettuccine
lazyme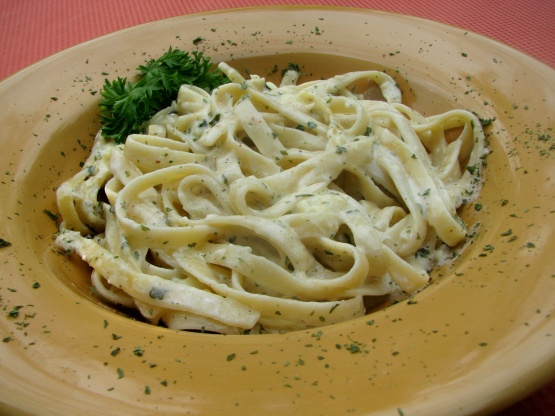 Let your taste buds experience the very flavorful combination of Asiago and smoked Gouda cheeses, which team up to make this dish extra-special. The pasta sauce is a bit liquidity before baked, but it reduces down to a thicker sauce consistency. This fettuccine is rich, creamy and tastes wonderful. It is filling enough for a meatless dinner. It is quick enough for a weekday meal, but delicious to serve to company. Pair it with steamed veggies or a salad. Update: I have edited this recipe as a result of a couple of the reviewers' suggestions.

3stars. This recipe has great potential. I don't believe it came out for me as it was described..it was not really creamy. The pasta seemed to have soaked up all of the sauce, and my cheese was not uniformly melted, I had lumps of cheese throughout. I would have liked to have seen some garlic sauteed with the shallots instead of the garlic salt. I found it difficult to stir the ingredients into the casserole dish without it going everywhere and ended up putting it all back in the pasta pot before adding the liquids, whick worked out much better. Maybe my dish was too small, but I used a 2 qt. casserole as suggested. For a baked pasta dish, I found using fettuccine an odd choice, and probably would use a pasta such as bowties or penne. It's awkward to serve it after it was baked. I think if this was made not as a baked dish, but an actual sauce made to pour over cooked pasta and serve, it would have worked better for me. I can see it being a wonderful sauce. I'm sorry this didn't work out better for me. Good Luck in the contest!
Cook fettuccine in large pot of salted water until tender but firm to the bite, about 10 minutes; drain well.
While pasta is cooking, in small skillet, saute shallots and garlic in 1 T butter over medium heat until tender; set aside.
After fettuccine is done cooking, drain well in colander and then pour back into the same pot.
Add the 6 T melted butter and coat pasta well.
Next add the shallot mixture, parsley flakes, cayenne pepper and ground nutmeg; stir well.
Next, add 1 cup grated Asiago cheese and 1 cup grated smoked Gouda cheese and combine well.
Next, add the half-and-half and milk and combine well.
Let the fettuccine sit for about 15 minutes so that the pasta soaks up the flavors of the sauce mixture.
Bake, uncovered, at 350 degrees F for about 25 minutes, stirring occasionally.
Enjoy!
Let sit for about 5 minutes and serve.