Creamy Austrian Rice With Peas and Onions (Quick)
VickyJ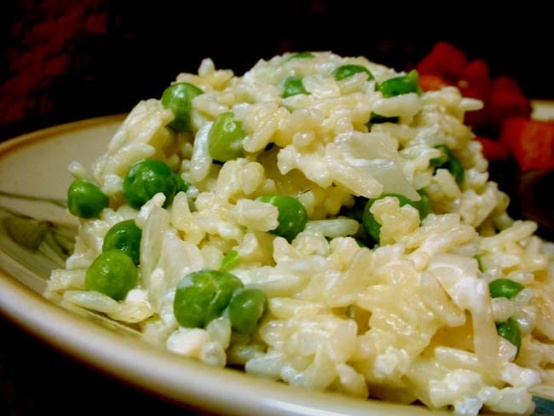 This recipe is SO SIMPLE! But oh so good!!!!!!! A great way to make a quick side dish without a lot of fuss, but great flavor! My own concoction, though I think it's Austrian...??? I think I saw Emeril?? make it years ago, but I didn't write it down. So this is my own version. My picky hubby even likes it! :) Haha! And he swears he hates Minute Rice!
In small saucepan, melt butter and add chopped onions. Cook onions about 5 minutes til just tender.
*Add garlic during the last minute.
Add water and boullion and bring to a boil.
Add rice, stir, put lid on and shut off heat.
Let sit 5 minutes.
Stir in mayo.
Fold in peas.
Wahlah! Easy as that!
If you like it creamier, add more mayo!
You can also add chopped parsley or a favorite herb.
Serve with pepper if desired.
Just think of this as a starting point for however you would like to make it! :).
We like it as written, though. ;).
And I like that it's all in one pan! LOL!